One of the most challenging aspects of tackling a new lifestyle, especially one on the scale of a complete dietary change, is finding a personal niche in the new spot. The raw food lifestyle seems to be mostly people who are young and vibrant and have lived that way for all of their young lives.  They look like life has not touched them in any negative way.  And for most, it has not.
I decided to start looking for someone older, a female, who had history in this raw food life. A name that arose from the pile over and over was Mimi Kirk. As I investigated, she is truly OLD!  That made me happy. Mimi will be 81 in 2019.
Mimi turned to vegetarianism in the early 1970's and converted to all raw food around 2007.  It is encouraging to think that for the first 30+ years, she ate just like everyone else.  Then for the next 30+ years she eliminated meat.  And now she is a raw advocate and has been that way for over 10 years. She attributes her diet to a healing of arthritis and a lowering of her blood pressure.  She claims to have the energy of someone in their 20's!
So I do believe I have a heroine to follow in the footsteps of where eating is concerned. One thing she advocates is a mini detox as you enter in to the raw food diet. It acts like a reset of sorts.  She has a handful of smoothie recipes, another handful of soup recipes that are minimally warmed in a high speed blender, and a last handful of salads with raw dressings.  You can mix and match these in anyway you would like, eating as much as you would like.  Some of the recipes sound pretty yummy, and are definitely going to be tried, like an orange smoothie that has oranges, kale, apples and berries.
I have been able to fins a lot of YouTube videos simply by googling Mimi Kirk, so for the days ahead I plan to watch as many as I can.  I found a used copy of Mimi's book, Live Raw, and I have already started devouring it.  This summer will not only be about eating raw but gaining as much raw education as I can.
I also received a book as a gift from a friend called The Raw Food Detox Diet, by Natalia Rose. This is such a good friend that she found me a used copy!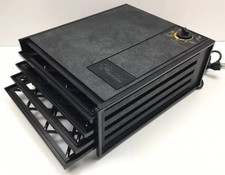 Today I got out the dehydrator and gave it a place of importance on the kitchen counter.  There is a microwave on that same counter that I never use.  But it belongs to my daughter, and she does use it, although rarely.  My secret plan is to make that usage less and less until it can move out. I am not a fan of even having it in the house, but we have had it tested and it seems like a safe one, at least for now.
This is short, I know, but if I am going to attain my goal of posting more often so that this serves as a journal of sorts, I need to be content with shorter!
Soon,
Debi