While perusing the Cultivate What Matters Facebook page I came across such an interesting idea that I decided to think about for a bit in written form.
The concept of (No)vember: spending the month concentrating on NO's.
I believe that there shouldn't be a totally negative connotation around the word NO, because telling ourselves NO can have great benefit.  Some of the No's I read were:
No TV Tuesday
No second helpings
No sugar
No flour
No agreeing to any new commitments from Nov 20 to Dec 31
No buying ____________________
Haha, as I thought about the last one I wanted to fill in "planners" because this time of year I get crazy for new planners. But now that I am happily working on a bullet journal and also Cultivate What Matters' Power Sheets, that will be enough.  But I definitely struggle with planner envy. There are so many perfect "looking" planners out there, but the only one that works well enough to satisfy me is my bullet journal.
My main desire would be that my personal art ability would allow me to design a planner that has a greater WOW appeal. But alas, my artistic ability is medium to low.
Back to the No's.
There are some standard No's already in place in my life, but a couple of them definitely need reinforced: no flour, no sugar. The hard and fast line has gotten a bit muddled lately.  But this week, I have gone back to some roots of rawness and some strong lines. A place that I have found great help, but very unexpected, is a book, Chris Beats Cancer.  I do not have cancer, but the daily protocols and food choices Chris Wark makes to keep cancer dormant can be practiced by everyone. I am making sure that my daily diet includes as many of the antioxidants that he recommends as possible. I am most impressed by the idea that his food is 100% medicinal.
No flour
No white processed sugar. God created bees to make honey, maple trees to give syrup and sugarcane to give us blackstrap molasses.  Only blackstrap has nutrients and is in fact a superfood on some lists.
No eating before noon or after 6pm. Another line I have in place, but have not held tightly enough lately. Now that I am adding on some juicing and a morning cocktail of sorts (green, no less), I am drinking that sort of thing before noon, however. One idea I have had is to move the fasting and eating windows around a bit so that fasting begins around 3pm?  Considering this.
No buying any planner or planner related items for 2019.  Be satisfied with what I have.
No laziness. I tend toward this, yet I have a lot to get done before the end of the year. No letting a day go by without cleaning out something; reducing so that I enter 2019 lighter that I am now.
Haha, both in possessions and actual body weight. In my (often failing) efforts to be obedient to what God convicts my heart of more than obedient to the calorie counting and the food thoughts, weight is kind of just holding steady.  Guys, I hope there are others out there who can understand the struggle of a food addict. My goodness, I never even thought that something could be so foremost in mind without me allowing it to be there; but that is how living as an addict is. A minute by minute decision to put God above food. Someone without an addiction will never be able to read that and understand the implications, but I know that I only have success when (somehow) I manage to allow the Lord total control.
HOW DOES THAT HAPPEN?
No idea, which makes it hard to keep it happening or keep myself uninvolved?
I reserve the right to add more No's with time.
This is today's tackle.  Both units appear organized and fairly neat, but they both contain a lot of things that I really do not use or need.  So cleaning these up will mean de-cluttering for sure. Here is the big de-cluttering challenge: I have to NOT THINK about the money spent on things that I feel would be best given away.  Actually, what I need to train myself to do is think about this BEFORE  I spend money. I have this on my list of 2019 GOALS for my Power Sheet Planner.
A few hours later and the book shelves are done. I have a stack of  things to get rid of.  81, to be exact.  I love to count; makes me feel productive.  it takes 465 items to play the minimalist game, which you know I LOVE to play. The date of the month is the number of items you get out of your house that day. If the month were 31 days long it would be 496. It is way too slow for me to actually play the game.  I just try to keep count and see where I get.
I am getting rid of a few things I never thought I would be able to shed.  Feels a bit scary and kind of good.  I just have to keep the Tiny House in mind. I am a journaler.  I am tossing my old journals.  I started making a copy of the Bible, and while I loved that project, I quit years ago.  So I am discarding the part I did in the past. I may start this again?  Not sure. Also shedding all the Bible studies I have finished in the past. Lots of Beth Moore, Priscilla Shirer, Jen Wilkin.  Because while I would love to think I will go back through them, I will not. I might do the study again one day.
Actually getting rid of these is a bit of a conundrum.  I sort of wish I was in an area where I could start a large burn pile?  But I am not, plus I would be a little afraid of doing that.  So I am going to toss one or two at a time in a bag of trash where I work.  Trash there is picked up from a large outside container by a truck that lifts and empties it. So I will spread it out over a long time, I suppose.
The hardest thing to toss was art work that I did over the last many years.  Hand lettering pieces; but as I looked through it, I could honestly say I would never use it for anything, nor did I particularly enjoy looking through it.  I LOVE to letter,and kept some special pieces, but for now, just moving forward and not looking back is what helps my lettering most.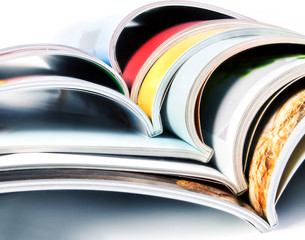 One thing I have learned is that de-cluttering and getting back to the basics is not always about getting rid of things.  It can be equally about deciding not to replace something once it is gone.  For example, my toaster is on the way out. Only 2 of the 4 slice slots work still, and it is soooo slow. But when I finishes dying it will not be replaced, as I have a toaster over that I use all the time that can toast; not as conveniently, but that's OK.
It is always so freeing to finish the cleaning up after a few hours of organizing and purging.  I usually stop when all the areas I am working on are all reassembled again.  The floor is usually COVERED with stuff still!  So it takes another hour to sort everything that isn't being returned to the original space into piles: trash, thrift store, recycle bin, give away.  Then, it all goes to the car, because it is important for it to leave the house before I call the project done.  And the second benefit of that:  I can only tolerate a messy car for so long, so I am driven to take care of the stuff in the car.